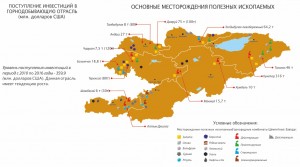 Landlocked, mountainous Kyrgyzstan, home to the massive Kumtor gold mine that has produced 10.4moz with reserves of another 4.4 moz, is a mineral-rich but underdeveloped country. Gold accounts for 41% of Kyrgyzstan's exports,  and coal, Mercury, uranium and antimony are also produced. Undeveloped potential includes rare earths, bauxite, copper, tin, tungsten and zinc.
Top international mining companies including Polyus, Newmont and Goldfields have owned properties in the country. In the past decade, the Kyrgyz mining sector experienced an influx of Chinese investors and operating companies. Centerra Gold, KAZ Minerals, Highland Gold and Chaarat still enjoy the rich mineralogy and low operating cost environment.
Social and environmental concerns have driven Government actions resulting in the country being rated fifth least investor-friendly in the Fraser Institute survey, but recent EITI admission and CRIRISCO adoption are encouraging signs. The nation is looking to modernize extraction and exploration via the adoption of the latest process and geological innovation.