The 1st Mining and Exploration Forum MINEX Kyrgyzstan will be held at the Hyatt Regency Hotel Bishkek, st. Abdrakhmanova, d.191, 720040, Bishkek, Kyrgyz Republic.
Standard Single Room – $ 150 USD per night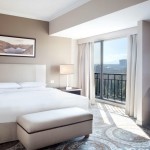 The rate includes:
∙ American Breakfast
∙ Mineral water daily
∙ Assortment of tea and coffee in the room
∙ Visit to the sports club "Olympus"
∙ Internet (Wi-Fi / High speed)
Minex Forum has reserved a block of rooms at the Hyatt Regency Bishkek at a special rate. To reserve accommodation, please fax or e-mail the attached booking form to the Hyatt Regency Bishkek before 6 p.m. on 20th of October, 2018. All rooms not reserved in this manner by 23rd of October, 2018 will be released for general sale. Reservations made after this date will be handled on space and rate availability basis only.
Please fax or mail this form to:
Hyatt Regency Bishkek – Reservations Department
E-Mail: elvira.satylkanova@hyatt.com
Fax: +996 312 66 93 05
Tel: +996 312 66 12 34
If you expect a confirmation of your booking from the Hotel, please make sure that you have indicated your email address or fax number.