31 October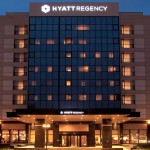 FORUM AND TRADE SHOW
Venue: Hotel Hyatt Regency Bishkek, st. Abdrakhmanova, d.191, 720040, Bishkek, Kyrgyz Republic
10:00 – 10:25 OPENING SESSION
10:00 – 10:10 Welcome address by the Prime Minister of the Kyrgyz Republic
10:10 – 10:15   Welcome address on behalf of the Embassy of United Kingdom in Kyrgyz Republic
10:15 – 10:25 Welcome address by "Adji-Service" LLC
Forum General Sponsor and partner
10:30 – 11:30 SESSION 1
CURRENT STATE OF THE KYRGYZ MINING INDUSTRY
Main challenges facing the geological, mining and metallurgical industry. Investment climate and foreign direct investment trends. Conditions and policies for attracting overseas investment. Responsible mining: economic, environmental and social aspects.
Moderator: Alymbek Orozbekov, Deputy Chairman, State Committee for Industry, Energy and Subsoil Use
10:30 – 10:45 Legislative initiatives to improve the investment climate in the mining industry of the Kyrgyz Republic
Kozhobek Ryspaev, Deputy to the Jogoroku Kenesh of the Kyrgyz Republic, Chairman of the Committee on Fuel and Energy Complex and Subsoil Use
10:45 – 11:00 The current state and development prospects of the mining industry of the Kyrgyz Republic
Emil Osmonbetov, Chairman, State Committee of Energy and Subsoil Use Industry of the Kyrgyz Republic
11:00 – 11:15   Overview of junior mining in Kyrgyzstan.
Ishimbay Chunuev, President, Kyrgyz Mining Association
11:15 – 11:30 EBRD in the Natural Resources Sector of Central Asia.
Almas Eshchanov, Banker, Energy and Natural Resources, Region – Russia, the Caucasus and Central Asia, European Bank for Reconstruction and Development (EBRD)
11:30 – 12:00 COFFEE BREAK
12:00 – 13:00 SESSION 2
SUSTAINABLE DEVELOPMENT OF MINERAL RESERVES OF THE KYRGYZ REPUBLIC
Development of mineral and raw materials potential: the role of the state, large and junior companies. Success stories of small and medium-sized mining companies. Which business models are the most attractive for mining projects in modern conditions? Practical experience in creating value and minimizing the risks associated with the exploration, extraction and processing of mineral resources. Waste and tailings management.
Moderator: Ishimbay Chunuev, President, Kyrgyz Mining Association
12:00 – 12:15 Experience of joint activities of the state company and foreign investors in the Kyrgyz Republic.
Almaz Alimbekov, Chairman of the Board, Kyrgyzaltyn OJSC Kumtor Mine.
12:15 – 12:30 Experience of developing mines at high altitude. Kumtor case.
Tynchtyk Mokeev, Assistant chief engineer, Kumtor Gold Company CJSC
12:30 – 12:45 Shambesai Project – state and development prospects.
Yuri Kmet, Chief Geologist, JSC "Z-Explorer"
12:45 – 13:00 The current state of transition to international standards for reporting on mineral reserves and resources in the Kyrgyz Republic.
Arkady Rogalsky, Member of the Board, Kyrgyz Mining Association
14:00 – 15:25 SESSION 3
ADVANCED SOLUTIONS FOR MODERN MINING AND BLASTING
Creating mining technical and technological capacity in the Kyrgyz Republic. Application of modern technologies in mining and metallurgy. Mine blasting. The experience of applying modern technologies to reduce costs and increase safety – specialized software, high-precision GPS-positioning, surveying measurements, high-speed video monitoring, scanning.
Moderator: Aigerim Omokoeva, General Director, ADJI-Service LLC
14:00 – 14:15 New emulsion explosive (EVW) "Spherite-DP"
Asanbek Tutuev, LLC "ADJI-Service"
14:15 – 14:30 Modern initiation devices
Andrey Ivanov, Deputy chief engineer for initiation devices development, JSC
'Novosibirsk Mechanical Plant 'Iskra'
14:30 – 14:45 From equipment to integrated supplier in the regional Mining Industry
Nikolai Yenshin, Key accounts and sales director, FLSmidth
14:45 – 15:00   Reverse Circulation drilling in the geological conditions of the Republic of Kyrgyzstan.  Kyrgyz GeoProspects case.
Vadim Latypov, Drilling and well engineer, GC "RosGeoPerspektiva"
15:00 – 15:15 The use of economic indicators in the methodology of medium-term mining planning in the mining and geological information system Micromine.
Zhaskhan Bairov, Mining engineer, MICROMINE Central Asia
15:15 – 15:25   Assay and Environmental services capacity building in Kyrgyz geological for mining and  exploration industry in Kyrgyz Republic.
Salamat Imanakunov, Stewart Assay and Environmental Laboratories LLC
15:25 – 15:40  COFFEE BREAK
15:40 – 16:55 SESSION 4
MODERN GEOLOGICAL EXPLORATION – SMARTER, FASTER, EFFICIENTLY
Examples of the use of aero-geophysical technologies in the search for and study of various mineral deposits. Prospects for development of the use of satellite technologies in geological exploration.
Moderator: Rostislav Bilik, Head of enterprise, LLC "AGR Software"
15:40 – 15:55 Aeromagnetic survey using UAV with detailed envelope relief
Dmitrii Goglev, Project manager aeromagnetic survey with UAV, Geoscan
15:55 – 16:10 IT toolset for smart exploration management.
Rostislav Bilik, Head of enterprise, LLC "AGR Software"
16:10 – 16:25 The search for ore minerals using the technology of electromagnetic sounding and induced polarization (EMP-VP).
Konstantin Abornev, Deputy Director General, Helios LLC
16:25 – 16:40 Support of verification drilling programme to enable mineral resource estimation compliant with JORC Code (2012).
Ruslan Erzhanov, General Director, WAI Kazakhstan
16:40 – 16:55 K-MINE: Integrated mine planning and management system.
Mykhailo Nazarenko, CEO, Group of Companies KAI
16:55 – 17:00 TECHNICAL BREAK
17:00 – 17:45 SESSION 5
ROUND TABLE: PROSPECTS OF MINING AND EXPLORATION IN THE KYRGYZ REPUBLIC
Moderator: Ulanbek Ryskulov, Member of the Board, Kyrgyz Mining Association
Keynote: Responsible Mining – it can be done.
Pierre De Pasquale, Senior Researcher, Responsible Mining Foundation
Panellists:
18:15 – 21:00 GALA DINNER – 20TH ANNIVERSARY OF ADJI SERVICE
Venue: Restaurant Frunze, st. Abdymomunova, d.220a, 720040, Bishkek, Kyrgyz Republic
1  November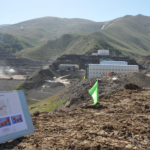 MINE VISIT
Visit to the Taldybulak Levoberezhny deposit
The Taldy-Bulak Levoberezhny deposit is located in the Chui oblast of the Kyrgyz Republic, 120 km east of Bishkek and 12 km south of the Orlovka village in the foothills of the Tien Shan mountain range in northern Kyrgyzstan. 6 km east of Orlovka in the village of Kemin is a railway station.
The Taldy-Bulak Levoberezhny deposit was discovered during the Soviet period and was the object of numerous geological surveys between 1963 and 1995. In the same period, a feasibility study was carried out according to the Soviet model.
1 NOVEMBER – MINE VISIT
Coach pick-up from Hotel Hyatt Regency Bishkek, st. Abdrakhmanova, d.191, 720040, Bishkek
08:30 Departure from the hotel
10:00 Arrival at the Altynken Taldybulak gold deposit operated by Altynken
10:30 Administrative base – presentation
11:00 Central gold mining plant
12:00 Mining complex
13:00 Overview of the tailings management
14:00 Lunch
16:00 Departure to Bishkek
17:30 Arrival to the hotel